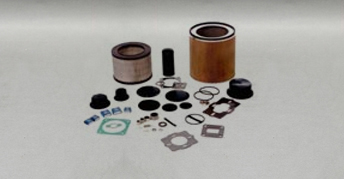 Air Brake Compressor Parts Manufacturers in India
Grindlays Engine Parts Pvt Ltd has acquired immense expertise and popularity through manufacturing, exporting and supplying engineering goods. We fabricate an incredible range of compressors to be installed in industries and also in commercial vehicles thus giving a better performance today and tomorrow. We supply compressors, air treatment components and also the air braking control systems across the world. Fabricated using the finest quality material, these engineering goods are designed to serve your industrial and commercial purposes. Our specialty lies in producing air brake compressors thus allowing you to go with the best device under warranty.
Air Brake Compressor is prominently used in varied industries ranging from small gas stations to manufacturing plants and industries. It is a device having the capability to convert power into a potential energy that is stored in pressurized air. This compressor forces air into a storage tank thus increasing pressure by using distinctive methods. Grindlays is a notable name serving clients for over four decades with a broad array of air brake compressor parts.
With the usage of new technological development, Grindlays offers a technically enriched and cost-effective alternative to replacing the conventional compressors parts of heavy vehicles like truck, bus and trailers etc.
We, at Grindlays, fabricate premium quality compressor parts that incorporate Pistons, Piston Pins, Piston Rings and Cylinder Blocks. Our manufactured parts are durable, reliable, long-lasting that gives a great performance. Serving OEMs with uniquely designed aftermarket products worldwide is our speciality.
Features of engineering goods-
Water-cooled cylinder head
Inbuilt with Power Reduction (PR) feature
Can be used with turbo charge inlet
Inbuilt with Temperature Reduction (TR) feature
Benefits of our produced parts-
Reduced delivery air temperature by introducing water cooled valve plate
Reduced unloader power consumption through Power Reduction (PR) feature
Improved compressor life
Better volumetric efficiency
Low Oil Carry Over (OCO)
Application-
Manufacturing industries and plants
Medium and heavy duty commercial vehicles
Buses and trailers
Grindlays offers a completely new line of compressor parts applicable for heavy vehicle engines and industrial applications. Buyers having a need for genuine OEM replacements and premium aftermarket parts can contact us.