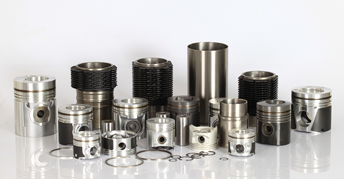 Cylinder Sleeves and Liners Manufacturers in India
Cylinder liner is one of our flagship products from the stable of Grindlays Engine Parts Pvt Ltd. We are one of the prominent manufacturers, suppliers and exporters of cylinder sleeves to the OEMs across the world. Our varied range of cylinder liners and sleeves are available across different engine types. We predominantly cater to four wheeler vehicles ranging from cars, trucks to tractors and construction equipment. The offered range under this segment is manufactured using high quality raw material that is sourced from the certified vendors of the industry. We dominate the world market through our strong R&D facility which also helps our customers to deliver better products.
With over five decades of experience in manufacturing products, excellence and quality has grown by leaps and bounds. We lay strong emphasis on the quality of material used for our products and the material undergoes various tests at our labs before being used for the production. Great emphasis is laid on the fact that the material being used is catering to the specifications specified by the OEM to withstand heat and pressure.
Our high quality cylinder liner sleeves function as the inner wall of a cylinder thus forming a sliding surface for the piston ring while retaining the lubricant within. The combustion heat transferred through piston and piston rings is turned into a coolant, the actual application of these coolants are in heavy vehicles like trucks and buses. Cylinder liner is also known as the cylinder sleeve which is a replaceable metal sleeve placed within the cylinder of an engine thus providing a long-lasting surface to withstand wear and tear from the piston.
We at Grindlays Engine Parts Pvt Ltd also manufacture dry sleeves which are used for quick repair of damaged worn cast iron and aluminium engine blocks.Our dry sleeves help save the block in case of excessive taper wear, crack, scored and damages. In order to prevent wear, we produce centrifugally cast cylinder sleeves instilled with desired strength across the cylinder. These are manufactured using the latest technology to provide flawless bore which is entirely significant to boost the performance of your engine.
Our cylinder liners come with the most important function of:
Reducing wear on the cylinder liner itself
Reducing wear on the partner piston ring
Helping reduce consumption of lubricant
Prevents the compressed gas and combustion gas from escaping outside
Our Cylinder liner comes with High anti-galling properties as well
Types:
Dry Liners
Wet Liners
Sleeves
Air Cooled Cylinder Blocks (Fins Type)
Semi Finished, Full Finished.
Range: Up to Bore Size 230 mm
Materials:
Centrifugally Casted Graded Cast Iron
Sand (Gravity) Casted Graded Cast Iron
Shell Moulding for Cylinder Blocks
Coatings:
Perkerisation
Chrome Plating
Quality Commitment:
Batch-wise Material Test
Microstructure Test
100% Dimensional Check
Honing Angle Check
Profile Test
Hardness Test
Tensile Strength Test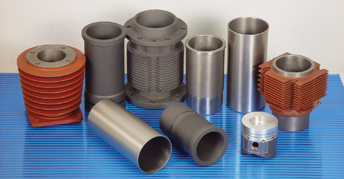 Quality Assurance
For us at Grindlays Engine Parts Pvt Ltd Quality is not just a word or process we have developed it as a habit, as processes may fail at times but when habits grow on you its difficult to shake them off. Our quality check processes at every stage of manufacturing helps us to achieve a consistent quality in each and every product that comes out of our factory. Infact the quality processes start right from the stage of procurement of raw material for our products. We have a very high percentile of zero defect product delivery, which is backed by consistent production orders from our OEMs, they never feel the need to contact any other supplier once they have got used to our quality standards.
Some of the processes followed are below:
100% examination of dimensional compatibility in procedure and completed components
We do inspection of honing angle as well as surface and structure roughness
We carry out periodic tests for profiles, crack detection, and tensile strength
To match geometrical parameters high profile Cylindrical Grinding and table Honing
Micro-structure analysis and stringent material testing for every batch
Applications
Grindlays Engine Parts manufactures high quality products for small, large and medium automobiles. We offer a wide range of products for personal cars, two and three wheelers as well as for commercial vehicles like Trucks, Tractors and LCV's. We always manufacture parts for large scale industrial equipment like Ammonia Compressors, Forklifts and Heavy Earthmovers. High grade engine parts for marine engines, generators, and diesel engines are also manufactured and exported by us.
Our Reach
Grindlays Engine Parts products have attained recognition in more than 25 countries across the globe and are regularly exported there. The company aims to serve most parts of the world by offering quality products in the most Reliable and competitive ways. We are supplying our products in all major countries of the European market, US market, South American market, African market, and Asian market.