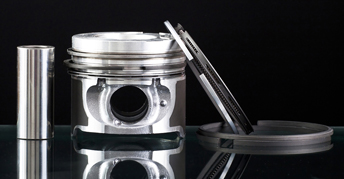 Piston Pin Manufacturers & Suppliers in India
For past several years, Grindlays Engine Parts Pvt Ltd has acquired immense recognition in manufacturing high-quality Piston pins to serve industrial, locomotives and marine applications. We use advanced technology to produce the comprehensive design of Piston-pin. Each product is worn, abrasion and corrosion resistant to provide a long life to the engine. Here we ensure production of premium quality pistons by following best production techniques similar to 3D finite element design analysis.
Our product passes through a complete inspection process in order to ensure all specifications are met as per the client's need. We are equipped with an entire range of technically enriched equipment that includes computerised vacuum spectrometers, bond checking machines, universal testing machine, surface finish measuring equipment, metallurgical microscopes and profile checking machines etc. Our speciality lies in having a huge team of qualified professionals, technicians and staff to serve the market with the best product.
Grindlays Engine Parts is known as the leading piston pin manufacturers in India serving both national and international market with its products, and those are prominently used in all types of combustion engines. Piston Pin, also known as gudgeon pin, is a hollow rod having a small diameter which is typically manufactured using diverse materials especially alloy steel that exhibits high strength and robust properties. The pins produced can withstand high temperatures though they are small, light and can crucially need to withstand heavy loads and bending forces as well.
Features
Single source heat treatment furnaces
Micro Finished
Honed bores to 0.3Ra
DLC coating if required
Roundness to 0.001 max
Inspection Laboratory
MFD crack detection
Microhardness testing
Prototype service available catering for small test runs through to production volumes.
Applications
Heavy/Light Commercial Vehicles
Two/Three/Four Wheelers
Agricultural/Tractors Engines
Diesel/CNG/Natural Gas/Gasoline Engines
The inclusion of extensive features enhances its performance thus supports the smooth operation of an engine. If you are running an industry and looking for a dependable product then contact us today for best support!