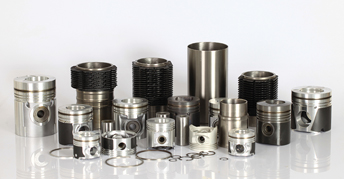 Cylinder Sleeve and Liner Manufacturers in India
Grindlays Engine Parts Pvt Ltd is one of the prominent manufacturer, supplier and exporter of cylinder sleeves to the OEMs across the world. It dominates the world market through its uniquely designed engineering products and goods. The cylinder sleeves manufacturers are backed by the strong research and development for over four decades fabricating excellence in the form of engineering goods. As a leading producer, Grindlays offers a premium quality parts and equipment produced using finest quality materials.
We leverage cylinder liner sleeves that functions as the inner wall of a cylinder thus forming a sliding surface for the piston ring while retaining the lubricant within. The combustion heat transferred through piston and piston rings is turned into a coolant, the actual application of these coolants are in heavy vehicles like trucks and buses. Cylinder liner is also known as the cylinder sleeve which is a replaceable metal sleeve placed within the cylinder of an engine thus providing a long-lasting surface to withstand wear and tear from the piston.
We, at Grindlays, produce dry sleeves that allow quick repair of damaged, worn cast iron and aluminium engine blocks. It helps save the block in case of excessive taper wear, crack, scored and damages. The installation of repair sleeve often saves the block and so, boring out the damaged cylinder is the prime option. In order to prevent from wear, we produce centrifugally casted cylinder sleeves instilled with desired strength across the cylinder. These are manufactured using the latest technology to provide flawless bore which is entirely significant to boost the performance of your engine.
Our produced products are ready to meet the international standard of OEMs thus serving the global replacement market. Our products are manufactured as per original specifications both dimensionally and metallurgically. Our speciality lies in production of technically enriched cylinder liner, sleeve, air cooled barrel according to your prescribed specification. Equipped trained and experienced engineers, we possess the ability to offer customized solutions and specifications with immense quality taking you to the next level.
Types:
Dry Liners , Wet Liners, Sleeves, Air Cooled Cylinder Blocks (Fins Type), Semi Finished, Full Finished.
Range: Up to Bore Size 230 mm
Materials:
Centrifugally Casted Graded Cast Iron
Sand (Gravity) Casted Graded Cast Iron
Shell Moulding for Cylinder Blocks
Coatings:
Perkerisation
Chrome Plating
Quality Commitment:
Batch-wise Material Test
Microstructure Test
100% Dimensional Check
Honing Angle Check
Profile Test
Hardness Test
Tensile Strength Test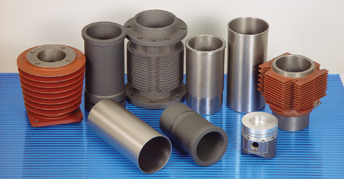 Grindlays have acquired technical excellence, unique craftsmanship exceptional leadership qualities enables us to excel amongst the cylinder liner manufacturers in India. We are consistently striving to improve the quality of each produced engineering good to grow amongst the cylinder sleeve manufacturers in India. We are working with an aim to serve you through 100% quality and zero defect production. You can easily contact us for customised solutions to be delivered at your doorstep.