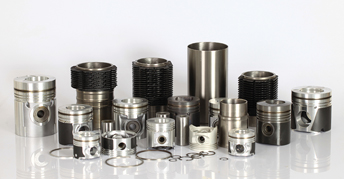 Cylinder Sleeve and Liner Manufacturers in India
The function of a cylinder liner is to serve as the inner wall of a cylinder and form a sliding surface for the piston ring while retaining the lubricant within.The combustion heat transfered by piston and piston rings is turned into a coolant.Mostly its application is in trucks and buses.A cylinder liner also called as cylinder sleeve is a replaceable metal sleeve placed within the cylinder of an engine, forming a durable surface to withstand wear from the piston.
People repair damaged and worn cast iron and aluminum engine blocks using dry sleeves. To save the block if a cylinder has excessive taper wear, or is cracked, scored or otherwise damaged. Installing a repair sleeve can often save the block and boring out the damaged cylinder is the only option. Likewise, to restore the cylinders to like-new condition, all cylinders in the block can be re-sleeved if all if they are heavily worn.
GRINDTECH Cylinder Sleeves are centrifugally casted to provide desired hardness uniformly across the cylinder. Every cylinder sleeve is centrifugally casted to provide desired hardness and uniformity is maintained across the cylinder.These are manufactured using state of the art machinery to provide distortionless bore , which is extremely important for the performance of an engine.
Types:
Dry Liners , Wet Liners, Sleeves, Air Cooled Cylinder Blocks (Fins Type), Semi Finished, Full Finished.
Range: Up to Bore Size 230 mm
Materials:
Centrifugally Casted Graded Cast Iron
Sand (Gravity) Casted Graded Cast Iron
Shell Moulding for Cylinder Blocks
Coatings:
Perkerisation
Chrome Plating
Quality Commitment:
Batch-wise Material Test
Microstructure Test
100% Dimensional Check
Honing Angle Check
Profile Test
Hardness Test
Tensile Strength Test