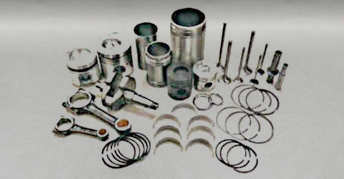 Automobile Engine Parts Manufacturers & Suppliers in India
We offer a complete range of automobile engine parts, we likewise participate in the calling of expounding the real name of motor parts by having an overall sorted out association where we have the capacity to fabricate numerous kinds of motor parts with their precise machine apparatus part name. We are a leading name amongst the top companies in the business of assembling diesel engine parts that are durable and can keep up with the wear and tear for long.
With years of experience in exporting, supplying and manufacturing, our company is specialized in export of engine parts and today we are one of the most well renowned manufacturer in the world. Here is a list of some of our engine parts that we offer-
Gudgeon Pin
Fuel Pump
Tappet set
Cap Callat
CR Brass
Main Bush Bearing
Valves
Gear Bolt
Fuel Pump Tappet
Spring
And many more
We offer a customized solution for the convenience of our customers as per the clients requirement and at the same time fulfilling norms and rules of the manufacturing industry. The range of diesel engine components that we cover/ manufacture includes bearing covers, exhaust flangers and other several engineering components. We also provide all sorts of important engine parts in different configurations as per your need and requirements. We are a one stop solution for the parts of a mechanism. We use latest manufacturing technology for the high speed results.
After decades of experience we are now able to offer various other spare parts of a motor namely-
Fuel Filter
Connecting Rod
Ideal Gear
Injector
Can Shaft Assembly
Ring Set
Governing Assembly
Tapper Roller Bearing
High Pressure Pipe
Push Rod
Along with other several parts that makes an automobile engine work like a horse we make parts that increase the life of your engine and if you want us to be your partner and assist you, then all you need to do is send us an e-mail mentioning all your requirements with specifications that you want us to deliver. Please don't forget to mention actual name of engine part along with the specification in your e-mails, so that we can deliver you your desired product. We also welcome and service queries and requirements of wholesalers who want engine parts in huge quantity.Incase you want to get associated with us as a wholesaler do get in touch with us.