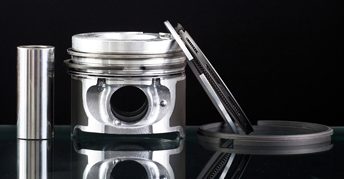 Piston Pin Manufacturers & Suppliers in India
Piston Pin is made from high quality Alloy Steel (16MnCr5, 17Cr3, SCM415, SAE8620 etc). These are of fine micro-structure. The manufacturing process is performed on the state of the art machinery to achieve perfect dimensions (Roundness-within 2 microns, Concentricity-max 0.3mm, Surface Finish-0.1Ra Max.) and quality. Piston pins are hardened and tempered and are maintained between 58HRC to 64HRC hardness and case depth of 0.5mm to 1mm. These are mainly made for Pistons made by GRINDTECH, but for past many years, other piston manufacturers also rely on GRINDTECH pins only.
India Piston is a world class manufacturer and exporter of engine parts. Our products are available in the Middle-East, Europe, and Southeast Asian nations. We are committed to offering high quality engineered solutions to key players in the automobile and industrial equipment manufacturing sectors. We also design and manufacture piston pins to custom specifications to match the demands of today's high performance engines. All GRINDTECH products are made after thorough research and development. The products are further subjected to rigorous quality checks to ensure that every piston pin and other engine part that rolls out of our factories meet our highest standards of quality and reliability.